Trust in God's Provision Helps a Family
Deep trust in God brings about a smooth resolution when a family needs a car.
Categories: Abundance, Gratitude
Our family recently had an extreme need for a vehicle. It was coming down to the wire where we were going to have only one car. One car just wouldn't work with three kids, two adults with two different jobs, and two other kids for whom I'm responsible. I have always thought an Expedition would work very well for our needs. Six months ago, we tried to get a loan for a car, but we were denied.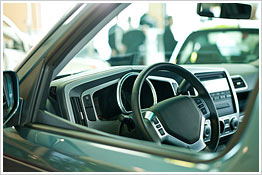 I was really struggling with the belief that we would always lack something somewhere somehow. So I prayed about having our needs met. I turned to the Bible stories and thought about how Moses led the thousands and thousands (or millions) of people out of Egypt. If God could provide for them everyday -- morning, noon, and night -- then God could provide for our family as well.
I knew that it was right that our needs were met completely and that we didn't have to lack anything. I really liked that the manna was all over the ground every single morning and that it was enough to all day. Yes, they had quails at night, but it meant a lot to me that when they woke up in the morning, they didn't have to struggle for survival. There's a lot going on in the morning sometimes. For the children of Israel, everything was provided for them. I needed to trust that God was doing the same for me and my family. Any time I was afraid or scared, I would think about this idea.
One day it came to me very strongly to go to a certain car dealership in town. On the way there, my husband told me that we were not going to drive away with a vehicle. This didn't phase me because I really was trusting the fact that finding a car which was right for our family didn't have anything to do with my husband or with me. God was providing.
When we got there, there was only one Expedition, and it met exactly everything we needed and more. As we were driving the car, the salesman asked me if I wanted the car and if we were going to buy it. I didn't say anything. I just looked at my husband to see what he would say (since he had told me we wouldn't drive away with a car). He told me to answer, so I said yes. From there, we went into the dealership, and a couple hours later, we drove away with the car.
But two and a half weeks later, we had received three rejection letters from banks telling us that they would not give us a loan. Rather than worry, I realized that I needed to take my trust in God even further. I was told I wasn't going to be able to drive away with a car, and I did. So I could let God work this out for me, too. I prayed to know that no personal ego or personal sense about what was right -- my husband's sense or my sense of what was right -- could interfere with what God had planned for us. No matter what, God was the One in control. Period!
The next day, my husband got a phone call from the dealership telling us we'd been approved for a loan. But in order to get that loan, they had to lower the interest rate and lower the payments, which ended up bringing the cost closer to what I wanted to pay in the first place. They also had to shorten the length of time we would have to pay. That was how they worded it, too. So basically, they gave us money off of the car and lowered the interest rate. We could come in the following day and sign the paperwork. It was just incredible. God had worked the whole thing out for us.
Everything was considerably less. I didn't bargain at all. God took care of all the negotiating. God took care of every aspect of buying a new vehicle that fit our family's needs perfectly. I didn't have to do anything but trust.