The Bible Impacts a Student's Performance
The Bible helps a student heal a headache and improve his performance in the class.
Categories: Guidance
It was a crisp fall afternoon. I sat in my high school classroom, waiting for students to stop by who needed extra help with their Iliad essays. I was waiting for one student in particular. He needed to improve his grade to continue playing football.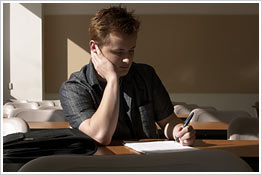 With about ten minutes left in the conference period, he poked his head in the door and announced he was too miserable to work on an essay. I asked what was wrong. He said he had a horrible headache. Knowing he loved the Bible, I asked if he ever prayed, opening the Bible for God's messages to him.
He said he had, but that a headache wasn't a problem he thought God was going to solve. I handed him a Bible and asked him to pray for God's help. He then opened to Ps. 3:3. His eyes got big, and he looked up at me and then read me the verse: "But thou, O Lord, art a shield for me; my glory, and the lifter up of mine head." I said, "Well, God certainly knows your every need."
The discussion that followed was about recognizing that he had a relationship with God. He saw that the Bible was a connection for seeing God's messages directed to him. I then asked how he was feeling. His response was somewhat unexpected. He said, "I feel loved." The headache was gone, and he was ready to work on the essay.
While working on the thesis statement, he looked up and asked, "Do you think there is a Bible verse that will help me write the essay?" I gently suggested that he open to II Tim. 2:15: "Study to shew thyself approved unto God, a workman that needeth not to be ashamed, rightly dividing the word of truth." He smiled and wrote it down in his daily journal. The Iliad essay was his first "A" essay, but not his last.
We can all turn to God to heal and direct us.