Missing Purse Returned
Here's a story about how God's angels are always caring for us. A missing purse and all its contents are returned.
God's angels are always taking care of us. We may not even know that we need them. But they are there, watching over us, caring for us, keeping us safe.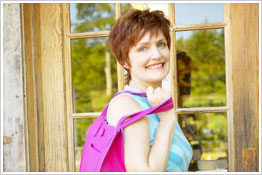 We had an experience recently that proved this. We were driving home from the mountains after our Christmas vacation and stopped for lunch at a popular place. It was extremely crowded, so my husband went to get in the ordering line while I got the kids out of the car. My mom, who was in another car with a friend, was able to find a table. By the time I got inside with the children, there was an incredibly long line to order food, but my husband was already up at the counter ordering.
As we were waiting, we were all expressing gratitude for being able to find a table. We were glad each family member had been in his or her right place to make things go smoothly. As we were eating, we heard our friend's name announced over the loud speaker with a request that she come up to the counter.
At that moment, our friend realized her purse was gone. She had gone to the bathroom before lunch and evidently left her purse there. She went right up to the counter, where she found another customer and her husband waiting to give her back her purse. Nothing had been taken from it. Everything was there, untouched. And the line for the bathroom had been at least 10 people deep. Our friend offered the couple money for finding it, as she had so much in this purse that could not be replaced. They just said, "Pay it forward." We were all deeply grateful to them for their honesty and integrity.
God's angels had been taking care of our friend—and of all of us. The words of Psalm 91 rang true:
Because you have made the LORD, who is my refuge,
Even the Most High, your dwelling place,
No evil shall befall you,…
For He shall give His angels charge over you,
To keep you in all your ways. (Ps 91:9, 11)
I love the allness of this statement. God's angels are always in all places, and we are so grateful for their care.