Living after a Loss
Bible verses help a woman carry on and keep enjoying her dogs after her husband passes.
Categories: Loss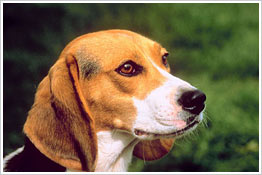 After my husband passed on, I continued walking our dog, Duchess, every morning. We lived on an acre, so we had some distance to walk before we reached the outside road. When we reached the road, I had to be sure Duchess' leash was secured on her so we could go outside our acreage. As I was doing this one day, I was thinking about my husband and how much he loved this dog. My thoughts were filled with the words, "Why don't you give up and join your husband?" I was startled by this thought. My first response was the verse from Psalms: "I shall not die, but live, and declare the works of the Lord" (118:17). I continued walking Duchess for a long time while I refuted the suggestion of death. I have used this Bible verse many times since I now live alone, and it has been very helpful.
I started a list of my favorite Bible verses that I carry with me. Many years ago when I started teaching Sunday school, I memorized the Ten Commandments in the book of Exodus and Jesus' Beatitudes in the book of Matthew. To this day, I still go over them every day and have found them effective as I pray for myself and for my dogs. Since Duchess was really my husband's dog, I found Bonnie, a Beagle puppy, for myself. So, now I walk two dogs. My Beagle is very receptive to words from the Bible when I talk to her. I have helped her many times, looking into her big, brown eyes, and she always responds favorably. The healing words and ideas from the Bible are the foundation for everything we do and say every day.