How Prayer Helped School Children
Mary Michael shares a Bible passage that helps her work with children effectively.
Categories: Loving and Forgiving
I have been a volunteer for most of my life. Volunteering has been incredibly worthwhile for me, but has not always been easy. While I have worked with adults and the elderly and continue to do so, my main focus has been in working with children. I was a CASA worker (Court Appointed Special Advocate) for a number of years for children who were removed from their homes because their situations were dangerous. When I was involved in particularly difficult situations, I would often turn to a favorite Bible passage: "The Lord will perfect that which concerneth me" (Ps. 138:8). It helped me take the sense of responsibility off of myself and realize that these precious children (whether they were my own children, grandchildren, CASA children, or school children with whom I worked) are being taken care of by their Father. And if I can rejoice in that for them, be confident in that, and get myself out of the way, then that's the best thing I can do for them.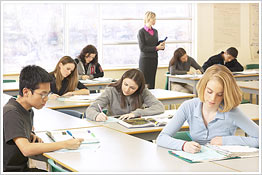 I shared this passage with a reading specialist at the middle school where I tutor. I went in one day and found her in tears. She was so distressed; she had worked so hard with these students, and the students just weren't getting it. She felt that she had failed them. They had a state standardized test coming up that was very important. She and I had talked about God, so I gave her that Bible verse and assured her that I would be with her in prayer, knowing God was perfecting the children and that they would express the intelligence that was theirs. When I went back, she told me that her class had the highest percentage of students who had not only passed but excelled in the FCAT. That Bible verse brings me back to basics. It doesn't say "Mary" will perfect. My responsibility is to see the individual God has created and be an instrument for God. I don't do anything; the Lord does the work.