Guidance in Hectic Times
While our lives sometimes seem to be loaded down with work, there is always time to get everything done with prayerful guidance. See how this woman found plenty of time to spare when she turned her thought to God.
Categories: Guidance
It is always a busy time in academia, but life seemed very much on overload one particular week. I am a librarian, and when I was working in Abu Dhabi, we were in the process of moving into a new library, scheduled to open in a very short time. I was also supposed to review a proposal for a Masters program right away, and I was asked to attend an all-day and night conference in Al Ain before that.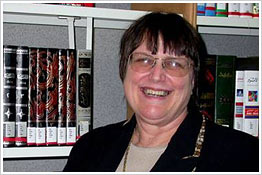 Like Jonah who did not want to go to Nineveh, I did not want to go to the conference (Jonah 1-3). I understood that it was important for the University to be represented at the conference, and I had been involved with the planning committee for the conference. My absence would be very noticeable. But it felt like my life was out of control and that this was the last thing I needed to be doing.
Even in the muck of this kind of thinking, I was reading about the "depth of the riches both of the wisdom and knowledge of God!" (Rom 11:33 KJV). I recognized God as intelligence, God as strength, but I was certainly not seeing myself as God's offspring.
I tried protesting to my husband Jack: "I think the road to Al Ain is dangerous at night. Don't you?" I would be returning from the conference around 11 p.m. He was sympathetic; he did not want me to go.
I pleaded with the Dean, explaining that I had three major projects that needed attention — the moving of the library, a memo that had been requested to analyze the placement of 70 computers in the library, as well as the necessity for computer upgrades; and that day I was asked to teach a seminar the next Saturday for graduate students in Education. Talk about overload!
But I began my day studying the Bible — with "the kingdom of God is within you" (Luke 17:21 KJV). I decided to demonstrate this truth and live it. If the Kingdom of God was within me, there was nothing that I could lack — and there was no possibility that I could fail in my assigned tasks.
So I went out searching for light and strength and a new world — well a new library, in my case. Early in the morning, one of my assistants was supposed to show up to work on part of the library. But she did not arrive at the appointed time. I found myself calling the two custodians for the library and saying, "Let's go and turn this into a library." They were great. We moved furniture (tables and chairs) into place and began to distribute the chairs. We got assistance to move large cabinets out of the reference area so that we could set up study tables. The place was transformed. My young colleague arrived later and was able to get her work done as well.
But I still had those two memos/reports to write and the education program to plan. I called the Dean once more to see if she really wanted me to go to the conference. She did. I sat down at the computer, and, to my astonishment, in less than two hours, I had the spreadsheet done, the memo done, and a quite elegant PowerPoint ready for the graduate students. I sent the memo off to my colleagues in the library to check the placement of the computers (realizing that they would probably enjoy this exercise) in case they could think of better arrangements.
y life was in control because God was in control of my life.