God's Protection in Vietnam
Major General Rob Ostenberg recounts how listening to God's guidance during the Vietnam war saved his life.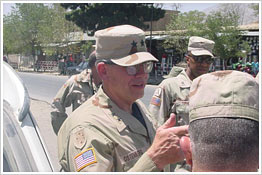 I was an Infantry Platoon Leader and then Platoon Leader with a Cavalry Squadron during the Vietnam War. I continually prayed to know that God was protecting me and my entire platoon at all times. One of my favorite passages was, "What time I am afraid, I will trust in thee. In God I will praise his word, in God I have put my trust; I will not fear what flesh can do unto me. (Ps. 56: 3, 4). I recently found it underlined in my pocket Bible I carried with me throughout my service. I know God was protecting us, because there were things that occurred out there that were absolutely positively impossible without having a higher power, God, involved. On one particular operation, we were asked to join up with another platoon. I was walking point, which means the first person in the column leading the platoon. I didn't like walking trails because they were often booby-trapped. I felt much more comfortable going through the triple canopy jungle. As we neared their location, a thought came to me to circle around to the other side of their perimeter and enter from there rather than go into the camp directly. It was not very logical, but I listened to the inner voice. The indirect path was a much more difficult terrain. We had to climb up a cliff one at a time. As I got to the top, I heard something; so did my radio man. The infantry is behind the radio man. I called into the camp, assuming what I heard was security. But the camp responded that they hadn't put security. I could hear a guy with a machete banging. I responded, "We've got movement." We got up the cliff and discovered a group of North Vietnamese Army soldiers (NVA) moving to ambush the unsuspecting platoon. We engaged the enemy and saved over 40 of our soldiers from death or wounding. We would've lost the company command and the whole platoon if I had gone the easy way. There was no human reason why I should have gone the hard way. God's angel message told me, "Get off the trail." We got there just in time. That happened to us often. I am indeed grateful for God's protection throughout my life.