God, the Realtor
Adam Messer thought he and his wife would have trouble selling their home. With prayer, however, they found that all their housing needs were quickly fulfilled.
Categories: Abundance, Gratitude
My wife and I needed to sell our home, but it was 2008, and the housing market was clearly going down hill. It was necessary to relocate so that I could go to business school. With no steady income, we were not in a position to have a mortgage and pay rent. We also had a mere three months to sell our home. Realtors told us we needed at least six months and would likely take a loss on the house.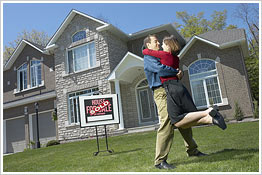 Despite the bleak outlook, we listed our home for what we felt like was a fair price. Two weeks later, we received an extremely low offer. Our realtor advised us that we should strongly consider the offer, as it might be the only offer we received.
We decided to pray about it. Everything else about the transition to graduate school worked out flawlessly, including being able to leave my job on good terms, obtaining financial support for school, and finding a new apartment. This offer just didn't feel like the right thing; it didn't meet our need. We decided to turn it down.
Several weeks went by with no activity, and we wondered if we had made the right decision. One day, while studying the Bible, my wife found a passage from Paul's writings that inspired and guided our prayers: "For I mean not that other men be eased, and ye burdened: But by an equality, that now at this time your abundance may be a supply for their want, that their abundance also may be a supply for your want: that there may be equality" (II Cor 8:13, 14 KJV).
What that meant to us was that our home, which had been a perfect home for us, a perfect demonstration of God's care for us, would now be a blessing for someone else, and the buyer's financial resources would, in turn, bless us. Selling the house should be a meeting of our needs and others' needs. It wasn't that we were losing and someone else was gaining, or we were gaining and someone else was losing. Rather, there would be an "equality."
The very next day, we got a call for someone wanting to look at the house. They loved the house so much they made an offer for the exact amount we needed to walk away from the home completely even -- no loss. What a wonderful demonstration of God's care.
But the blessings didn't stop there. After I finished graduate school, we took a trip abroad. We came back four days before I started my new job. We needed to find a place to live and had only one weekend to look for an apartment to rent. San Francisco, CA, is one of the toughest real estate markets for renters. People often look for weeks. We went back to the same ideas we had discovered when we sold our home.
We trusted God would provide the perfect sense of home for us, resulting in a mutual benefit both to us and to our new landlord. We found our home on Saturday, signed the lease on Sunday, and moved in on Monday. I started my job on Tuesday. Our new home included much more than we thought was possible to find in the city in our price range, even a beautiful garden in the backyard. We were so grateful for this clear evidence of God's perfect love for us.