God Provides Immediate Practical Care and Healing for a Family
Marilyn Utz shares how God met all of her family's needs when she, her daughter, and her husband were sick at Christmas time.
One Christmas season, our family received a helpful gift of love. During Christmas dinner with our family, our daughter became very ill and unable to keep food down. By the time we arrived home, I, too, was experiencing the same symptoms. By morning, my husband was also suffering. My greatest concern at this point was how to care for our children, our 4-year-old daughter (who was still unwell herself) and 16-month-old son. My Mom was still with us for a few hours, but soon would have to begin her trip home. We called on other relatives, but no help was available. I was worried that soon we would be alone and unable to help ourselves.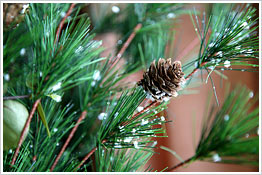 As I lay in bed, I turned to God in prayer. I remember thinking, "Father, please show me what to do." My favorite Bible verse has always been Isaiah 41:10:
Fear thou not; for I am with thee: be not dismayed; for I am thy God: I will strengthen thee; yea, I will help thee; yea, I will uphold thee with the right hand of my righteousness.
Over and over I silently repeated this promise of love and care. I was talking on the phone with a friend, who was praying with me also, and she reminded me that God will always provide the help we need and that I could trust Him to meet every need in this situation.
Then I thought, "What about our friends at church? Maybe they would come and help." Then I remembered, "It's the day after Christmas; everyone will be busy with their own families or even out of town." However, the first call I made was to one of our church friends, who lovingly said she'd be right over. She helped our daughter and gave me a chance to try and rest.
During this time, our daughter also began to experience the very painful symptoms of an ear infection. As I tried to comfort her, I felt overwhelmed. Our friend reminded our daughter and me that God loved her and only wanted good for her. He didn't want her to suffer. We could turn to Him with this need for help, too. I tried with all my might to believe this promise, to know that God would help our daughter feel His love and comfort, not pain and discouragement. Within about ten minutes, our daughter went to lie down in her bed. When she awoke about an hour later, she was so much better. The ear infection was completely gone, and she asked for something to eat. She ate from then on and soon began to play with her little brother.
Our friend stayed with us for five or six hours, supporting and loving each member of our family. When she needed to leave, we called another friend from church who joyfully agreed to come. When this friend needed to leave, I worried about how we would do through the night without help. However, at this point I had seen such practical proof of God's tender care for each member of our family that I began to trust that if we couldn't find a person to spend the night, God would still meet our need. Another Bible verse from Isaiah provided the assurance I needed.
… before they call, I will answer; and while they are yet speaking, I will hear. (65:24)
Our entire family slept peacefully that night, and we were all well and active the next day. This experience helped me understand that we can depend on the many promises we find in the Bible. God will help us in every situation.