God, Our Protector
A potentially fatal situation is averted through God's preserving power.
Categories: Education, Loving and Forgiving, Safety
One of our favorite activities is to go wakeboarding on the back of my parents' boat. As we head down the hill to the boat, we always pray. We talk about how God is in charge, establishes harmony, and expresses Himself/Herself through us. One early morning, we were taking out a friend of ours on the lake. We had made our runs on the wakeboard, and decided to show our friend the beautiful place where the lake runs out into a river.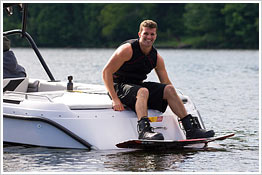 When we got there, the boat engine died and wouldn't start up again. Thankfully, we were in walking-deep water. So our very gracious friend hopped into the water with my husband and pushed/pulled the boat along the shore to the ramp. My dad took the boat to the shop. The mechanic worked on it and said he had found something to fix. Great!
So we took the boat out again. Again, the motor cut. But we were able to get it going and motor out past the buoys so I could jump in the water to board. I had just gotten up and was carving in the wake before going out for a jump when the engine cut off again. This time, they couldn't get the boat to restart. Our only option was to paddle back to shore.
Needless to say, we were praying -- reaching out to God for answers, being thankful that the boat hadn't died in the middle of one of my jumps, being grateful that we weren't too far out in the lake. My husband and dad started to paddle, my mom continued to pray, and I looked for other boaters. We all knew that God would find a way to help us. Shortly thereafter, some boaters came by and graciously towed us back to the dock.
Throughout this episode, we had remained calm, even though it hadn't made sense that the boat motor kept failing and that we couldn't enjoy one of our favorite activities. As we prepared the boat for trailering, we unscrewed the plug. Tons of liquid spilled out -- tons. Something wasn't right. There was no way we could have gotten that much water in the bilge. We suddenly realized it was gas pouring out. We put the plug back in, ran to the office at the marina, told them the situation, and asked for help.
Because there was a gas spill right next to state land, we had to explain the situation for HAZMAT. Thankfully, the gas had not run off onto state land; most of the gas was on concrete, and only some spilled into the ground, which would have to be dug up. The handyman at the marina said we were incredibly lucky: we could have blown up -- literally.
Then we had to deal with our feelings about the mechanic not fixing the boat properly and leaving us open to the possibility of being blown up. It was very easy to be angry that our lives were in danger because of someone else's incompetence. But if we were to solve the problem, we had to handle anger and unforgiveness. We didn't want to let anger control us or let unforgiveness enslave us through resentment. Jesus tells us to love our neighbors and enemies alike, and to forgive infinitely.
So we decided to be grateful -- grateful that we were alive, grateful that our 1 ½ year old daughter had stayed home with a friend and had not been exposed to the accident, grateful that the spill was containable, grateful that we had help. The engine kept cutting out for a reason -- telling us not to go. We were very grateful to God for protecting us when we didn't even know we needed protection.
There are so many passages and stories in the Bible that declare and prove God's protecting power. Among them are the psalms, telling us:
God is our refuge and strength, a very present help in trouble. (Ps 46:1 KJV)

That's right—he rescues you from hidden traps,
shields you from deadly hazards.
His huge outstretched arms protect you—
under them you're perfectly safe;
his arms fend off all harm. (The Message, Ps 91:3, 4)
God, indeed, had shielded us. Feeling that protecting power helped us dissolve resentment and anger so we could solve the problem. We would have to be firm with the mechanic, but we'd also have to be diplomatic and level-headed. Anger never brings about harmonious solutions.
My mom and dad took the boat back to the mechanic, who concurred with the handyman: we were lucky to be alive. My folks were able to talk with the mechanic in such a way that brought the severity of the situation to the surface and helped him realize that it was the right thing not to charge us for the necessary repairs. He found another problem with the boat -- a problem he should have found earlier. He was very thorough this time (a good lesson for him to learn).
But it would take awhile to fix the boat, and we had friends coming up for the weekend to go boating. We were now without a boat. We continued to trust God to take care of all of our needs. Some dear friends said we could borrow theirs. What a gift!
When we took our boat out the next time, we took it slow and checked everything out. All was well. We also had a good story to tell people, a story we haven't forgotten -- a story that proved that there really is nowhere we can go where God's protecting presence doesn't surround us. We can say with Paul, "And I am convinced that nothing can ever separate us from God's love" (Rom 8:38 NLT).