Depression Healed
Feeling depressed and angry? Reach out for God's help! This teenager did, and she regained her peace.
There I was again, sitting in my room crying about what I had just done. My arms were bandaged up with toilet paper, and I sat in despair. I was a confused, lonely girl with a depressed attitude.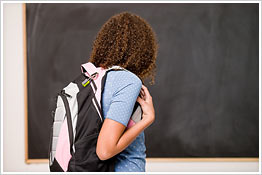 Yet, when it was time to show myself in public, I hid all of this. I covered it with a happy-go-lucky attitude, and everyone believed it. Bundled up in my shell, I would walk down the halls of school with "happy" eyes. I knew I couldn't show the "depressed" side of me. I thought no one would understand.
I was brought up in a middle class family with two siblings who were two of my best friends. We were inseparable. I had a very good life. I grew up on the beach, spent most of my time outdoors fishing, catching lizards, and climbing trees. I loved my friends and my family. I attended a nice school where I was part of the small percentage of students without divorced parents.
In 2001, my family packed up and moved to a new state, but my dad's business didn't do very well. Then one day, when I was in sixth grade, my dad picked us up from school. When we got home, my mom and dad told us that my dad was moving back to Florida because it would help our financial situation.
The long distance relationship between my mom and my dad was hard on both of them. A couple years later, they divorced.
There were ongoing custody issues that hurt me, my brother, and my sister and brought down our usual good attitudes. I felt almost as if we were possessions, rather than people. The three of us thought we had nothing but each other, so we tried to stick together. But it was hard and our family grew apart. We were all going our separate ways and there was never any more time for those "family dinners."
A little later, my dad was diagnosed with Grave Disease and my relationship with my parents fell apart. On those rare occasions when I called my dad, I was no longer "daddy's girl," and he didn't call me his "first baby girl" like he used to. I began feeling incomplete and as if there was nothing I could do about it. I wanted control of my life but didn't know how to take it. Depression was all that came out. I tried to make everyone think nothing had changed, but I was no longer a happy, giggly, bright girl.
One day I sat down and began to cut myself. I felt it was the only way I could control my anger. At the time I felt satisfied, but I felt much worse later. Every time I cut myself, my depression got worse. I craved attention, and sometimes I would leave the bathroom door unlocked, hoping someone might walk in and find me. It was a cry for help, but it wasn't working. More importantly, it wasn't me. I knew it was time to get help. I needed healing. I knew I needed to get through this with God.
So, I sat down with my family and told them what I had been doing. My mother's first response was very comforting. She said, "God is a very present help in trouble" (Ps. 46:1). Reading the Bible with my family was a daily activity. I also went to Sunday school every Sunday and was born and raised a Christian. So, turning to the Bible for healing was a natural part of my life.
A few days later, I came across this passage:
Whither shall I go from thy spirit? Or whither shall I flee from thy presence? If I ascend up into heaven, thou art there: if I make my bed in hell, behold, thou art there. If I take the wings of the morning, and dwell in the uttermost parts of the sea; Even there shall thy hand lead me, and thy right hand shall hold me. (Ps. 139:7-10)
It came to me that even though I felt I was alone, God was really right there comforting me. I just needed to be still and know that God IS God (Ps. 46:10). When I did this, I stopped hurting myself.
Now I'm in high school, and hurting myself isn't even a thought anymore. I am very grateful for that. I was completely healed of that desire. It's not even something I think about anymore. I do not, and will not, dwell on the past. 
I am back to my normal, true happy self now. My family and I are all very close again, and the support system I thought I had lost is back and better than ever. My smile isn't a cover-up any more, and my laugh isn't a lie.
I love life and my relationship with God. The Bible tells us, "And thou shalt love the Lord thy God with all thine heart, and with all thy soul, and with all thy might" (Deut. 6:5). And I do!