Communicating with God
We have all felt unsure of whether we are hearing God's messages or just our own ideas. This article takes that burden off our mind.
Categories: Guidance
Every now and then, I wonder if I can hear God's voice. I want to hear it. I listen when I pray. But sometimes I'm not sure if the answer is coming from God or from my own wishes and wants. There have been many times in my life when I know I've heard God's voice: it's very, very clear, and it always brings blessings. So I know it's possible.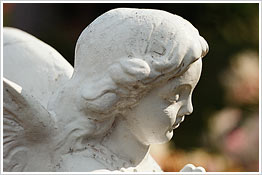 What's helped me work through this issue is to stop putting the burden for hearing God's voice on myself and, instead, put it on God. Listening is my responsibility, but communicating is God's. When I think I can't hear God's voice, I'm actually doubting God. I'm doubting God's ability to communicate to me.
That shifts perspective entirely. Rather than worry about whether or not I'll hear God's message, I can trust that God will make His message very clear to me.
Our beloved Nativity story proves this truth over and over again. Among the many wonderful aspects of this glorious event is God's ability to communicate to those involved.
He sent the angel Gabriel to talk with Mary and tell her that she was going to be the mother of the Messiah. (Luke 1)
Elizabeth, Mary's cousin, was "filled with the Holy Spirit" when pregnant Mary came to her house and was able to recognize the greatness of the child Mary was carrying. (Luke 1:41)
The "angel of the Lord" told Joseph lots of things -- such as not to be afraid to marry Mary, when to get out of town so Jesus wouldn't be killed by Herod's massacre of baby boys, when to come back, and where to live. (Matt 1-2)
A "multitude" of angels awed the shepherds, who eagerly went to greet the baby Jesus once they heard the glorious news. (Luke 2)
God even found a way to communicate to the Magi in different ways.

The incredible star, or alignment of planets, or something of the like, let the wise men know that a new king had been born, a king like never before. (Matt 2:2)
In addition, they were "warned in a dream not to return to Herod." As a result, they helped spare Jesus' life. (Matt 2:12)
If God can do all this, God can certainly tell us what we need to hear, what we must do, where we need to go, who we need to call, how we can think. Of course God can help us listen to and identify God's voice. So we can relax.
We can rejoice in God's nature -- All-seeing, All-hearing, All-knowing, All-powerful, All-communicative. We can stop worrying and start being grateful. Just as the star led the wise men and the angels guided Mary and Joseph, so God's angel messages are guiding us at all times. God can make His purpose clear to us -- no matter what. "multitude" of angels awed the shepherds, who eagerly went to greet the baby Jesus once they heard the glorious news. (Luke 2)