A College Senior's Healing While Wrestling
Wrestling with a healing? Check out this wrestler's perspective.
Categories: Health
My junior year in high school I was a member of the varsity wrestling team. I had competed in many seasons prior to that year and always enjoyed the challenge brought on by man-to-man competition.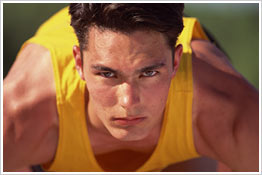 That year, however, some of the members on our team were affected by ringworm, a skin disease that supposedly stemmed from contact with the dirty wrestling mats and which is believed to be contagious. Because I always showered after our practices, I didn't think it possible that I could be faced with the same problem.
About halfway through our season, however, I noticed a spot on my leg that looked similar to those on some of my other teammates. This worried me because wrestlers who had that condition were not allowed to compete. I had been training diligently for many months to earn my spot on the varsity squad, and sitting out for some important tournaments would be a major disappointment. I decided I would pray - turn totally to God for a solution.
At first, it was difficult not to focus on the physical problem. But since looking at it only made me upset, I resolved to stop. Instead, I reached for my Bible and began with the beginning, Genesis I. I love that first account of creation: "And God said, Let us make man in our image, after our likeness: and let them have dominion..."(Gen. I:26). As I reflected on this passage, it became clear to me that since God was all good, and He made me in His perfect image, I had to be perfect, and therefore uncontaminated by whatever filth resided on our wrestling mats. I knew that everyone on our team, as God's perfect creations, had to be uncontaminated as well. This thought lifted me out of the fear and worry that had bogged me down, and gave me a new sense of freedom.
Soon after, I noticed that the spot on my leg was disappearing even though I had not taken any medication like some of my other teammates had. This encouraged me, and I continued to pray with renewed energy. We had an important tournament coming up later that week, and I didn't want to miss it. Since I knew God would continue the healing work He had begun, I felt unconcerned.
Well, the day to weigh in for the tournament came, and the spot had all but disappeared. After looking me over, my coach said, "I don't know what you've been doing, but keep doing it!" He knew I had been relying on prayer, GOD, for healing. The spot was disappearing much faster than my coaches had expected, to the point where I was no longer considered a danger to other wrestlers. I was allowed to compete, and had a great day! But the best part about it was that I learned a lesson about God that I will cherish for life.
Over the past few years, I've often pondered what exactly it means to be made in "His image and likeness," and I continue to find inspiration from these lines. The unlimited freedom and healing energy this concept brings are blessings we all have the right to enjoy. Through prayer, I realized that I can depend on this beautiful declaration - and see everyone as God's perfect creation.