The Shack
By Wm. Paul Young
Categories: Spiritual Living
If you're looking for another love story, you won't find it here. But a Love story — a story about God? Well, there is plenty of Love in Wm. Paul Young's The Shack.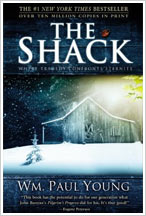 The Shack, though, is not scripture. And it doesn't recount Jesus' life as told in the Bible. It's realistic fiction with a strong spiritual theme. In fact, all literature contains a motif or theme, often a message about how to live, love, or lead. In fiction, the theme typically resonates through the characters or plot, diluting the intensity of the message. Fables and parables — though both works of fiction — cut out the middleman, extending the message throughout the entire narrative.
The power of parables is in their message — designed to teach, transform. But when we're handed a parable with a strong message, like The Shack, we might not find ourselves willing or ready to understand what it's preaching. Or we might attempt to affirm every detail, creating fact from fiction.
As a #1 New York Times Bestseller, The Shack has been subject to much praise, caution, and dissection. Critics have warned about its religious double dipping and confusion surrounding the book's portrayal of the trinity, urging readers to stay away. Are they forgetting that it's fiction? Regardless of how many religious boundaries the book may cross or any accusations of heresy connected to its prose, The Shack is comforting, absorbing, and imaginative.
But The Shack doesn't aim to fictionalize God or one's dialogue with Him. Instead, it teaches how personal God is when we let Him into our lives – a powerful, sobering message.
The book begins with a foreword by the narrator and then introduces readers to Mack and his family's sadness over the disappearance and alleged murder of their daughter, Missy. When Mack finds a note, apparently from God, instructing him to return to the site that has caused the family much suffering, he is forced to confront his grief and wrestle with the question, "Where is God in a world so filled with unspeakable pain?"
From the surface, The Shack feels like yet another interpretation of "A Christmas Carol" where three ghosts shuffle Scrooge through his past, present, and future. The Scrooge in The Shack is the wavering believer in God. Who are the ghosts? Cue the trinity. And Young's personifications of the trinity lead to some very eye-opening (and humorous) dialogue. God has quite the sense of humor in this book!
The Shack is loaded with rich prose, moments of sarcasm, one-liners rife for fortune cookies, and amazing accounts of God's love for his children. But best of all is its message — spellbinding lessons that are truly transforming.
Mack and his family aren't the only ones on a journey, however. Reading The Shack is like wading through all your paradigms, kicking at the pain and sorrow pulling you under, and realizing by the end that, actually, you're walking on water.
So shed any preconceived notions — about fiction, parables, religion, God — and simply accept what is in The Shack. Discover for yourself what The Shack is all about. And be ready for a roller coaster of joy, sadness, and hope.
For more information about The Shack or for links to the author's blog and discussion forums, head on over to www.TheShackBook.com.