Daughter of Jerusalem
By Joanne Otto
Categories: For Kids/Teens
Storytelling is at the heart of the Scriptures. Prophecies and parables were passed along orally – their messages of faith and salvation, struggles and sacrifices, preserved by those who told them and heard them. With each retelling, stories would come alive once again.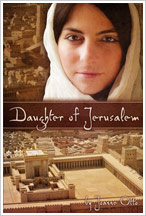 Joanne Otto continues this tradition with the "Daughter of Jerusalem." Otto first shared the story of 14-year-old Mara with her own daughter Meghan. With Meghan's encouragement, Otto then turned from storyteller to scribe, writing down Mara's tale for middle-grade readers. But the simple sweetness of this fictional story – inspired by the Bible – will resonate with readers of all ages.
It is the time of the holy festival of Sukkot, also known as the Feast of the Tabernacles in Jerusalem, which commemorates the Israelites' journey from Egypt to the Promised Land. During an evening meal, Mara and her family learn of the arrival of a young Galilean rabbi named Yeshua – better known as Jesus. Mara, who would rather study the Torah than carry out domestic duties, is immediately captivated by the news of Yeshua and his healing work.
As a girl, Mara's interest in the holy books is neither encouraged nor respected. But she makes a deal with her father, who wanted nothing more than to have a son. Mara's father, Eleazar, tells her, "I will permit you to be a daughter to [your mother] so long as she permits you to be a 'son' to me" (page 4). Even though Eleazar is supportive of Mara's studies, he is not as open to her interest in Yeshua. Concerned by the strong opposition by the Pharisees and Sadducees of Yeshua's arrival, he tells Mara to stay away when Yeshua is teaching. But Mara is determined to meet the rabbi.
As Mara's tale unfolds, Otto weaves in biblical details – the books, chapters, and verses are noted in the appendix for reference and further study. Select terms are clearly defined in the glossary. This biblical foundation, according to Otto, is "the story behind the story" (preface). And with the biblical backdrop, and the author's superb storytelling, the world in which Jesus lived – and where Mara grows up – is brought into focus, allowing young readers to really relate to Mara and understand what it would have been like as a teenager to live in Jerusalem around 30 AD. Otto has a gentleness and purity in her writing that truly makes reading "Daughter of Jerusalem" feel inviting and comforting. Readers of all ages will cherish the young heroine's determination and innocence.