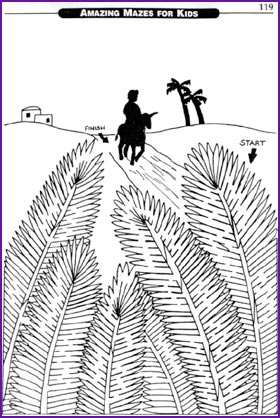 Taken from Amazing Mazes for Kids by Steve and Becky Miller, copyright © 1998 and published by Harvest House Publishers, Eugene, OR. Used by permission.
The Donkey Ride
John 12:12-19
Jesus and the disciples were about to go to Jerusalem to celebrate Passover, a special feast that remembered the time when God set the Israelites free from slavery in Egypt.
"Go into the village, and you will find a young donkey," Jesus told the disciples. When they returned with the donkey, Jesus rode it into Jerusalem.
Because Jesus was so popular, people began to wave branches and shout, "Jesus is our king! Hosanna! Hosanna!"
Everyone was happy, but little did they know that soon Jesus would be crucified on a cross. Only Jesus knew what was about to happen.
Begin from the "Start" arrow, and see if you can find your way through the palm branches to Jesus.